LCA Calculator Latest News
The LCA Calculator Gets Silver at the Green Apple Awards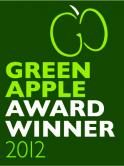 We are celebrating a 'silver' Green Apple Award for Environmental Best Practice. The award was given to the LCA Calculator for outstanding contribution to sustainable design. It was presented at the Green Apple Awards ceremony which took place on Monday, November 12th, at the Houses of Parliament.
Launched in 1994, the Green Apple Awards are recognised as one of the major international environmental award schemes to reward and promote environmental best practice around the world.

We are delighted to be given this award and for the LCA Calculator to be recognised as a vital tool for the future of sustainable product design.

April 2012
LCA Calculator's Latest Version
The latest version of the LCA Calculator web tool is due to be released soon.
Additional features include:
Higher quality data sourced from the EcoInvent (v2.2) database
More comprehensive choice of materials and processes
Additional data notes
Ability to add user notes to LCA stages
Ability to create your own composite materials

Export to Excel function
Compare LCA's tool
Please note that the EcoInvent data contains significant updates over the previous data sourced from the IDSA.This better quality data will give more accurate results which may vary substantially from results generated by the LCA Calculator Beta version.
You will be asked to purchase a license when you next log in. All pricing structures are outlined in the 'Pricing' section of the website

March 2012
LCA Calculator Presented at UKTI Sustainable Transport Conference
Stephen Knowles presents LCA Calculator at UKTI Sustainable Transport Conference at Loughborough University. Following the selection of the LCA Calculator by the Low Carbon Vehicle Technology Project, UK Trade and Investments, The UK government trade promotion body has requested IDC to give a presentation of the LCA Calculator at its annual conference for the promotion of the UK low carbon vehicle industry.THE LCA Calculator helps manufacturers understand and model carbon footprint of vehicles across their entire life cycle enabling a true comparison which takes into includes the manufacturing, use and disposal emissions rather than just the gCO2/km.